Ekiti State Governor, has described the sack of six police officers attached to the Rivers State Governor, Nyesom Wike as "the height of political victimisation by the All Progressives Congress (APC) led federal government just because the policemen were among the patriotic Nigerians who foiled the attempt by the party to rig the Rivers State rerun elections."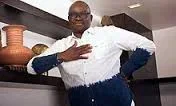 Governor Fayose, who described the six police officers as heroes of democracy, said "their names will be written in gold in the comity of defenders of the people of Rivers State and whenever normalcy returns to our body polity, they will surely regain their job."
Speaking through his Special Assistant on Public Communications and New Media, Lere Olayinka, Governor Fayose questioned the police authority on what it has done in respect of the Police officers that Nigerians have seen on videos, hijacking ballot boxes.
"Funny, they claimed that the six police officers, while in the convoy of Governor Wike misused the firearms in their possession and I have asked myself, who did they shoot with the firearms said to have been misused?
"The policemen simply did their job by protecting their principal and punishing them for performing their duties can only be meant to discourage policemen from protecting Governor Wike and other opposition Governors." The governor also challenge the police to tell Nigerians the report of its investigations on the murder of Deputy Superintendent of Police, Mohammed Alkali, and his driver during the Rivers State rerun elections.
He said; "Since Christian Chukwuemela Ekikeme, a member of the gang that killed DSP Alkali, and his driver reportedly linked a certain Mr Kachi Nwokocha, who is a top member of the APC and an aide of the Minister of Transportation and immediate past governor of Rivers State, Rotimi Amaechi as sponsor of the gang, the police has been silent on the murder.
"Up till today, the man mentioned as the sponsor of the gang that allegedly killed the DSP has not been questioned by the police.
"Why didn't the police handle the murder of DSP Alkali and his driver with the speed of lighting that it handled the dismissal of the six police officers?
"Why are Nigerians not being told anything about the murder and the involvement of an APC chieftain just the way the police paraded the six police officers?"
He said "it is sad that instead of focusing on those who killed its men, the police is now acting as an arm of the APC by punishing whoever acted against the wish of the vindictive leaders of the party."
FacebookTwitterEmailWhatsApp