No fewer than 15, 772 workers cutting across the local government, teaching service and the core civil service have been promoted by the Ekiti State Government.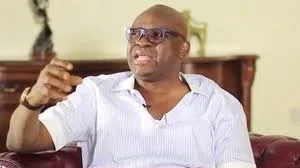 The beneficiaries are those whose promotions were due in 2012, 2013 and 2014.
Ekiti State Governor, Ayodele Fayose, according to a statement on Sunday by his Chief Press Secretary, Mr. Idowu Adelusi, approved the mass promotion at a meeting held with labour union leaders and top civil servants in Ado-Ekiti.
"The governor also ordered that the letters of promotion by given the affected workers without delay.
"However, the cash backing for the promotions would be effective as from March 2017."
Fayose, while noting that though the state is grappling with economic challenges, said that should not hinder the recognition of hard work and diligence of those serving the state.