Ekiti State Governor, Ayodele Fayose, has rewarded a member of the Ekiti State House of Assembly, Afolabi Akanni, who was detained for 18 days by the Department of State Services with a car gift.
At a ceremony held at the Jibowu Hall of the governor's office while hosting the 26-member assembly, the governor again criticised the DSS.
He said the security agency had succeeded in tarnishing its own image by allegedly attempting to coerce members of the assembly to act the script of his detractors, which was to impeach him.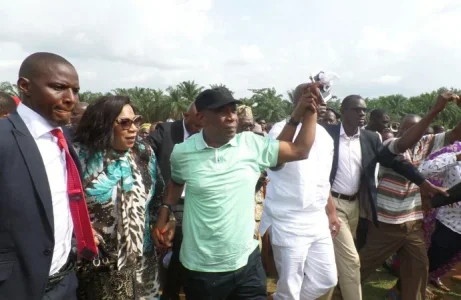 He said, "This House of Assembly is very unique and exemplary. You have refused to be bought over. My detractors have money and influence but Power of God starts where that of men stops. I'm so proud of you".
"You have shown that you can see beyond today. Wealth is not the amount of money in your bank but your level of integrity. You represent and carry yourselves as responsible Nigerians. The Old testament has to give way to the new testament. You are the 'New testament' House of Assembly".
Akanni in appreciation described Fayose as a "great leader and great mentor."