Ekiti State Governor Ayo Fayose during an interview session with PUNCH Newspaper defended his decision to rock T-shirts and patronise road side kiosks.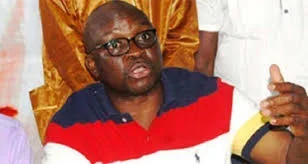 He asked his critics to contest Governorshi elections if they think they're better than him. ''Let them go and contest and become governors too. It is amazing when you see people who cannot win elections in their household criticising a sitting governor. If there is equal opportunity, they can't get there. If they get there, they can't perform. That is why it is easy for them to blow grammar and they can't win elections. I'm not in the calibre of those persons, I don't listen to them and I don't want to join them.
''When you see the likes of former US President Barrack Obama in Mcdonalds and we would be here fooling ourselves; when the founder of Facebook, Mark Zuckerberg, came to Nigeria in a T-shirt, people were praising him that he is a simple man. People like us when we wear T-Shirts, they say we are touts. That is double standard; they should keep quiet.