Governor Ayo Fayose of Ekiti state has revealed what Governors elected on the Platform of the Peoples Democratic Party, PDP discussed with former President Goodluck Jonathan last night.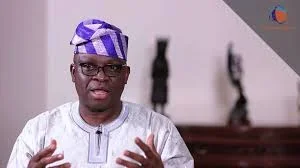 Fayose told reporters that the governors had decided to find a political solution to the crisis in the party.
Fayose said, "It is my pleasure to tell you that we are here at the instance of the former President. He is genuinely concerned by what is going on in the party. And he thought that an interactive session with the governors would go a long way to douse the tension.
"One, we want to assure all our supporters that we believe in this party. We believe in the success of this party. We want to appeal to everybody to be wary of making statements that could further worsen the situation.
"Rather we should make complimentary statements that can enhance the party the more. Again, we know that there are so many matters before the court. But we believe that a political solution will go a long way to solve this matter."