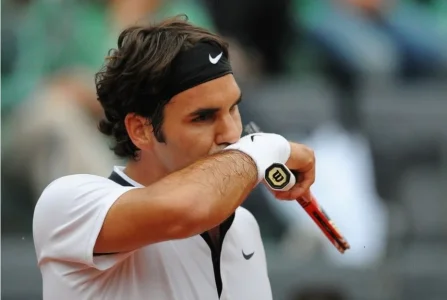 Roger Federer was on Sunday knocked out of the French Open Grand Slam tournament after he was beaten by Ernests Gulbis.
The 17-grand slam winner could not match the strength of the Latvian who needed a five sets victory 6-7 (5-7) 7-6 (7-3) 6-2 4-6 6-3 to outlast the Swiss player.
Gulbis has now qualified for the quarter-finals of French Open and will now play against Tomas Berdych in the last eight.
Despite coming under pressure,Gulbis did not capitulate in the final set and served to win the match.
"I was all over the place," said Federer. "I am disappointed not to win. I have a lot of regrets.
"But he did a good job of hanging around and coming back. I knew what to expect, I know how he plays. I just wish I could have played better."
Meanwhile,Andy Murray had to dig deep to win 12-10 in a fifth set shoot-out against Germany's Philipp Kohlschreiber after their game was carried over from yesterday.
Fernando Verdasco now awaits him in the quarter-finals of the French Open tournament.
Also,Novak Djokovic progressed having no difficulty in beating Jo Wilfried Tsonga,outclassing the French player 6-1 6-4 6-1.
In the Women's category,Maria Sharapova got the better of Sam Stosur coming from a set down to beat the Australian 3-6 6-4 6-0.