The Network of Civil Society Organisations in Borno State, has raised the alarm over the increasing rate of prostitution by female internally displaced persons in the state.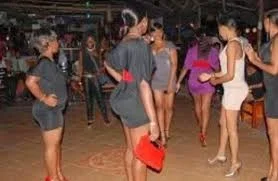 The Chairman of the CSOs, Ahmed Shehu, said that displaced women and teenagers were engaging in prostitution in order to raise money to feed their families.
Shehu spoke at the presentation of the situational assessment of internally displaced persons in the North-East by a non-governmental organisation, NOI Polls, on Tuesday in Abuja.
He noted that 60 per cent of female IDPs had suffered rape and other forms of sexual harassment, adding that many homes in Maiduguri and environs were now headed by teenagers whose parents had either been killed, missing or in Boko Haram captivity.
The activist stated that the development could worsen the high incidences of sexually-transmitted diseases in the state.
Shehu said, "Many females were raped and killed while collecting firewood, particularly as they travelled farther from their communities. Many teenagers are heading their families now because their parents had been killed or captured by Boko Haram. The sad part of it is that many female internally displaced persons have gone into prostitution so that they can feed themselves."
Source: Punch