British Broadcasting Corporation, BBC has reported that the Nigerian government paid two million euros as part of the negotiation that led to the recent release of the 82 Chibok schoolgirls from Boko Haram custody.
Although Femi Adesina, presidential spokesman, had said that there is no need to worry over the insurgents swapped with the girls, sources also told BBC that the girls were swapped with "high-level Boko Haram bomb-makers."
The girls were freed after series of negotiations between the sect and the federal government.
With the remaining 113 girls yet to be released, they had been in Boko Haram custody since April, 2014, when they were kidnapped – alongside 81 others – from their school in Chibok, Borno state.
Details of the deal which led to their release has remained sketchy except for the known Boko Haram members swapped with the girls.
But sources confided in
BBC
that the Boko Haram members "were accompanied by two million euros in cash."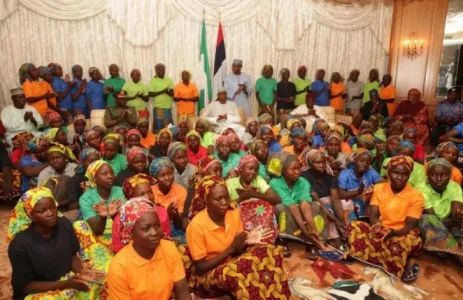 The source added that persuading President Buhari was "very, very difficult. It was the most difficult part of the whole negotiation. He didn't want to pay any money."
"The ransom was two million euros. Boko Haram asked for euros. They chose the suspects and they gave us the list of girls who would be freed," the source said.
The report stated that the negotiation was facilitated by Senator Shehu Sani (APC – Kaduna Central), who, together with a human rights lawyer Zanna Mustapha established a link of communication with the terrorists.