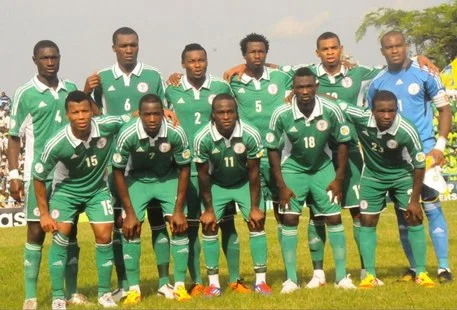 Nigeria will head into the 2014 World Cup tournament with an unchanged position in the monthly FIFA ranking released today.
Last month,the Super Eagles moved up to 44th in the overall ranking and sixth in Africa. It is the same position that they maintained this month and will remain like that till the next release is made,possibly after the World Cup tournament in Brazil,which ends next month.
The Super Eagles polled a total of 640 points and will be looking at gathering more points to rise up on the log.
Results of international friendly games up to May 30,was put into consideration for the ranking,which cuts across 67 friendly matches plus continental qualifiers in CAF (26 matches), the AFC (16) and CONCACAF (3) all taken into account.
Nigeria's case was not enhanced with the last two draws that they have played,most especially that of Scotland which was considered in this ranking.
Meanwhile,Algeria is now the highest ranked African team,moving up three places to now place 22nd in the world.
Côte d'Ivoire slumped down to two places to 23rd and 2nd in Africa,while Egypt who will not be at the World Cup went down twelve places to 36th in the world .
In the overall ranking,Brazil have steadily found its way to third position with Spain and Germany unchallenged in the first and second positions respectively.
Argentina and Switzerland moved two places up to fifth and sixth respectively on the log.