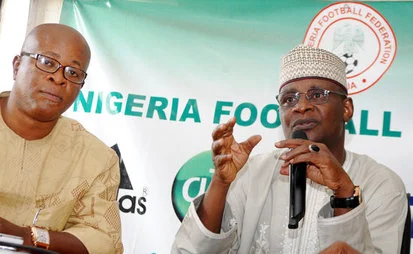 World football governing body, FIFA have summoned the Nigeria Football Federation(NFF) to provide full details of the impeachment process that ousted Aminu Maigari as president.
Maigari was impeached during an executive meeting of the NFF,allegedly indulging in acts of financial misappropriation,with eight out of 13 members voting him out of office,although one person claimed that his signature was forged.
The NFF have not been short of problems since then, some of the state chairmen issued a statement distancing themselves from Maigari's removal,arguing that only a duly convened congress has the powers to impeach him.
Also there are reports that some of the aspirants for the forthcoming elections have been deprived of the opportunity to purchase forms for the elections.
Then factor in that the National Sports Commission(NSC) are said t0 have had a hand in these problems,with the ministry believed to have a favoured candidate for the NFF top job.
With all these problems brewing,FIFA has requested from the NFF to explain what has been happening with the football body.
In the meeting of the executive committee members today, the NFF is expected to call a Congress that would facilitate the postponement of the elections from August 26 due to the complaints by some of the prospective candidates who were unable to obtain forms, to another date.
Last edited by a moderator: