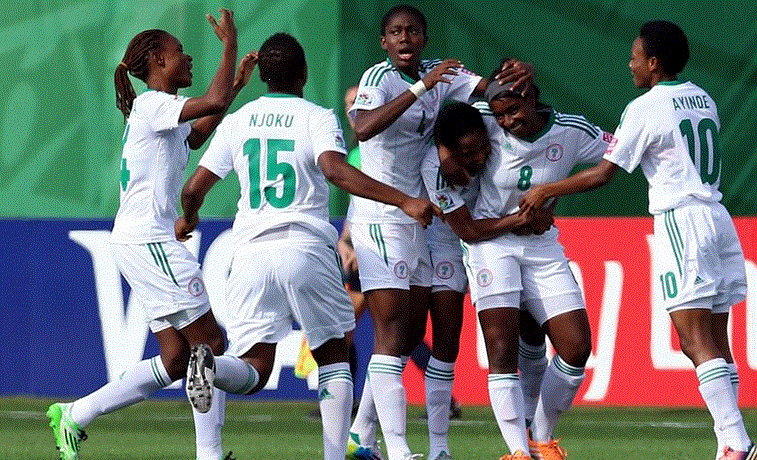 Super Falcons coach Edwin Okon has congratulated the Falconets for qualifying for the final of the 2014 FIFA U-20 women championship in Canada.
The Falconets trashed Korea DPR 6-2 to secure their place in the final against Germany, who defeated France in the second semifinal match.
It will be the second time that Nigeria will be facing Germany in the final of this competition,losing the last time they met four years ago.
Okon said that self-determination was key factor in the Falconets' decisive victory against the Asians adding that they improved with each game.
"Sheer self-determination immensely helped the Falconets to overrun North Korea and against pre-match rating turned out to be Nigeria's easiest match so far in the championship.
"The Falconets' fighting spirit is 100% and there was massive improvement and if you permit their best game in the championship.
"I think the Falconets flawless performance is evidence and reward of hard work, dedication and determination.
"I'm overwhelmed with joy that they've booked their passage to the final, they look good and strong enough to end the search for silverware right there in Canada.
"I praise the consistent sterling performances of Asisat Oshoala, Uchechi Sunday, Courtney Dike among others.
"Though Oshoala and Sunday were already Super Falcons before being allowed to team up with the Falconets, they're certain to have cemented their shirts including few brilliant ones with the Falcons," said the former Falconets coach to supersport.com.
The Falcons coach later admonish the Dedevbo-led side to stay focus as they head to the final with the aim of breaking the trophy jinx.
"I charge the side to remain focus until the final whistle and avoid being carried away by their five-star performance against North Korea.
"Once they avoid complacency and approach the final as a-must-win game I'm sure they'll win the trophy for the first for Nigeria," said the Rivers Angels head coach.
Last edited by a moderator: