Golden Eaglets coach, Emmanuel praised his team following their 3-0 victory over Brazil on Sunday night to progress to the semi finals of the ongoing FIFA U17 world cup in Chile.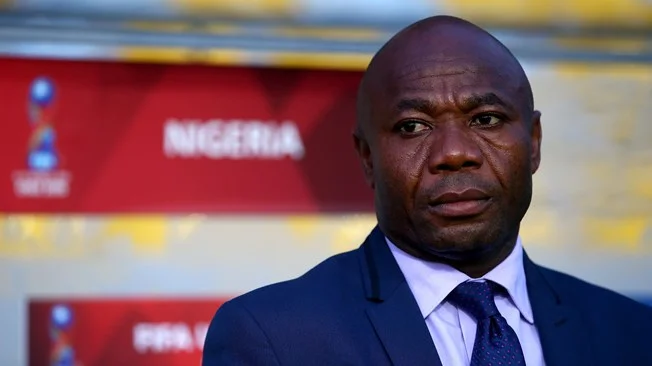 Nigeria arrived at the semi final stage haven't defeated USA 2-0, Chile 5-1 and losing to Croatia 2-1 in the group stage while thrashing Australia and Brazil 6-0 and 3-0 respectively in the second round and the quarter final stages of the championship.
Nigeria, who are the defending champions will get a replay of the 2013 edition with Mexico, after Mexico overpowered Ecuado 2-0 on Monday night to set up a re-match with Nigeria.
"Well, it wasn't a deliberate plan but of course, it was expected. We are aware that the Brazilians are technically good handling the ball, but the most important was the composure of the players, they were able to withstand that moment of pressure and then they were able to take the game to the Brazilians, I think you don't expect any match to come easy or even win a game of that nature easily."
"All you have to do is to work towards your opponent and plan for your game and make sure that you take your chances, I think that is exactly what we did because the first fifteen minutes the Brazilians created some chances but unfortunately for them, they couldn't convert those chances they created earlier in the game, and then as the progressed, the boys gained more confidence. I am happy for them that they are playing well and making a lot Nigerians proud back home."
"You know the Brazilians in any major tournament are favourites, but it also boils down to our ability to work and see how we can grow as a team, progress and compete with the rest of the world. I think It's a good thing to know that if we work hard and believe in what we are doing, we can win big teams."
"The Brazilians every one if afraid of today, the Brazilians people are talking about don't just wake up to become what they are, they all worked towards that with all sense of seriousness and honesty in what they are doing, a lot of implementation and credibility on their own part, they were able to give their players confidence to believe that they can beat anybody. If we back home can work towards that direction, we will be able to achieve more result.
"Talent is what is being given to us, likewise the Brazilians, they are talented but they worked for it to be shown, and I think we should follow the same line to encourage our players and our youths for them to believe in themselves and then give them reasons to believe in themselves- no human being is short of knowledge, everybody is opened to learn and if teach our people, they also will be well knowledgeable. In football, the more knowledgeable you are, the better your decision making will be much better and, the understanding of what you are told to do at every given time."
"We are all happy for Victor, I remember when we started this whole project, he came for screening and he was lucky to be among the players that made it to came, and I'm also happy that he has grown, he has learn to believe in himself. He's someone who rose from street football to the big stage and this makes me happy. These are the kinds of things we expect from our people, hopefully he'll continue to grow and things keep getting better for him."
"Well, I have emphasized that this team is a collective team, in the same vein, we will miss Bamigboye 'cos he's a good player but there are other players who can fit into his position and deliver perfectly. We are not afraid of that 'cos we have players that can play in his position but we are hpoing he will return for the final to give us his best as usual."
"We are not selective in the choice of our opposition but the most important thing is, which ever one that comes our way, we'll work towards that and play them and hopefully we'll come out victorious in that game. It will not be wise for us to say we want to meet this team and avoid that team, I think the most important is to respect all teams as they have made to this level which means that they are all good teams. As the competition progresses, the challenges become more tougher, we are just hoping we will be at our best to play them."
"I want to appreciate all Nigerians for believing in the team from inception, and I also thank those who do not believe in our cause, what's important for us is to believe in what we are doing- I thank Nigerians for the great opportunity to serve and we are hoping we'll continue to serve in our best capacity to make them happy, and most importantly, we hope to get to the final and return with the trophy."
"I really want to thank Nigerians for their support, I will also reiterate the fact that I'm loyal to the country and if we can use this avenue God gave us to make Nigerians happy, it is a good development." brilafm