In a quick reaction to the recent occupation of some Delta communities by the Nigerian Army, the Ijaw Youths Council (IYC) have condemned the presence of the fighter jets in the creeks.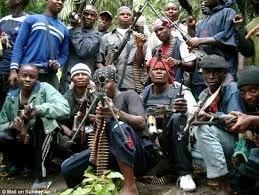 The IYC President, Mr. Udens Eradiri, after an emergency meeting of the council, in Yenagoa, said the tactic of intimidation will yield no positive result.
Urging the military to apply caution in their operations he warned that the crisis would not be resolved by deploying fighter jets adding that intelligence was a better strategy of dealing with the activities of the militants.
He said: "Ijaw people are peaceful people. Ijaw people are not avengers. These jets flying around Yenagoa and Gbaramatu, the avengers are not in these places. We just hope that they were just passing. But if it is hovering around, it means that something is about to happen.
"The military should use more of intelligence so that you don't go around destroying communities. We call on the military to withdraw its tactic of intimidation in Ijaw land.
"Jet fighters will not solve the problem. The economy is in a terrible forecast and we must do everything to save it. We are at the receiving end of the activities of these militants. Why are we also being intimidated".
He said the Niger Delta region was not interested in pipeline surveillance insisting that only true federalism would solve the problem in the region.