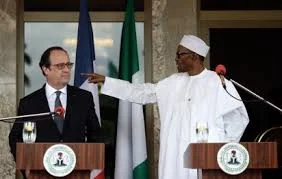 Nigerian President, Muhammadu Buhari on Saturday admitted that combating book haram, and the issue of security in Nigeria and in the world has been harrowing. He lamented that technology had also been contributing to the deteriorating security situation across the globe.
Buhari said this during a joint press conference he addressed with visiting President Francois Hollande of France at the Presidential Villa, Abuja. Hollande is in the country for the Second Regional Security Summit held Abuja, having hosted the first edition in Paris.
Buhari said, "Fundamentally, the issue of security has been more harrowing. The international terrorism, now with the help of technology and million of volunteers, respects no borders.
"It is a lot of concern for people of conscience to learn that in Nigeria, we have more than two million Internally Displaced Persons, most of them women and children."
The President added that after the local government areas initially under the control of insurgents had been retrieved from them, they (insurgents) had been exploiting available technology in terms of using Improvised Explosive Devices on soft targets, including mosques, churches, markets and motor parks.
He also said many of the territories they held captive had been freed while the government's current major challenge was the rehabilitation of destroyed infrastructure.
The President also attributed the success recorded by his administration in the anti-terrorism fight to the help of the G7 nations, including France.