The Niger State Fire Service has confirmed an early morning fire outbreak at the NNPC depot in Suleja.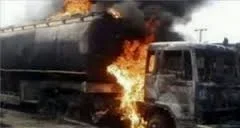 Mr Mohammad Kwale, the officer in charge of the service in Suleja, told the News Agency of Nigeria (NAN) on Sunday that the outbreak affected the loading section in the depot.
"The outbreak started around 4:30am when we were called. By 5:00am we have put out the fire.
"An articulated vehicle was burnt while the loading canopy and some pipes were damaged. No life was, however, lost in the incidence," he told NAN.
A resident of Maje, Malam Garba Magaji, a settlement few metres away from the depot, told NAN that a loud explosion woke up the residents this morning, adding that they later understood it was from the depot.
"The explosion was like bomb. But a colleague of mine later informed me that it was the tyre of an articulated vehicle that bust at the loading bay.
"The depot has been sealed and fire service officials and the road safety are at the scene," another eyewitness said.
NAN