A raging night inferno razed 118 shops at the Kabong market in Jos North on Thursday morning, the News Agency of Nigeria reports.
A correspondent of NAN, who visited the market, could not access the burnt section as some shops were still in flames.
Others also had thick smoke billowing from them, making visibility very difficult.
The actual cause of the fire could not be ascertained, but Mr Christopher Jama, Chairman, Kabong Market Traders Association, who briefed the governor– when he visited the scene– said the fire started by 4:00am.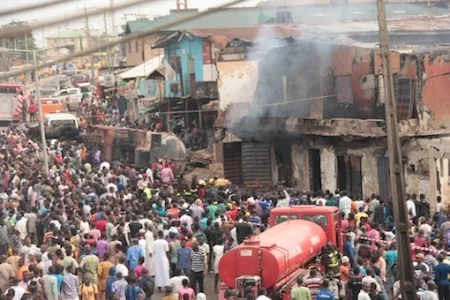 Jama claimed that the fire was caused by an electrical spark when public power supply was restored in the night.
He told Gov. Simon Lalong that 118 shops were completely burnt, and noted that goods destroyed included bags of maize, beans, rice, and poultry products.
He appealed to the governor to come to the aid of the affected traders 'whose means of livelihood had been destroyed'.
Lalong, who expressed "deep shock" at the development, promised to remodel the market and also address the traders plight.