The Nigerian Civil Aviation Authority (NCAA) has handed a N32 million fine to FirstNation Airways for violating the provisions of the Nigerian Civil Aviation Regulations (NCARs).
The NCAA also fined one of the airline's Pilots-In-Command (PIC) N1.5 million for breaching the safety regulations.
The authority made the disclosure in a statement by its General Manager, Public Relations, Sam Adurogboye, and obtained by the News Agency of Nigeria in Lagos on Sunday.
The statement said the Letter of Sanction conveying the penalties has been sent to the airline's management.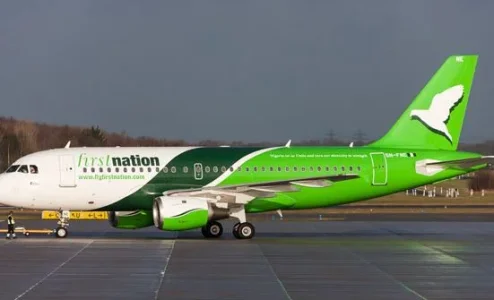 It said the NCAA had carried out a Ramp Inspection on the airline's Airbus A319 Aircraft with registration mark 5N-FNE at the Nnamdi Azikiwe International Airport.
According to the statement, it was discovered during the inspection that the PIC was not in personal possession of a current medical certificate, neither was it readily accessible.
"Consequent upon this, a Letter of Investigation was sent to the airline and the pilot.
"However, in their response, the pilot admitted violating NCARs, while the airline demonstrated lack of thorough knowledge of the requirements of the regulations," the statement added.