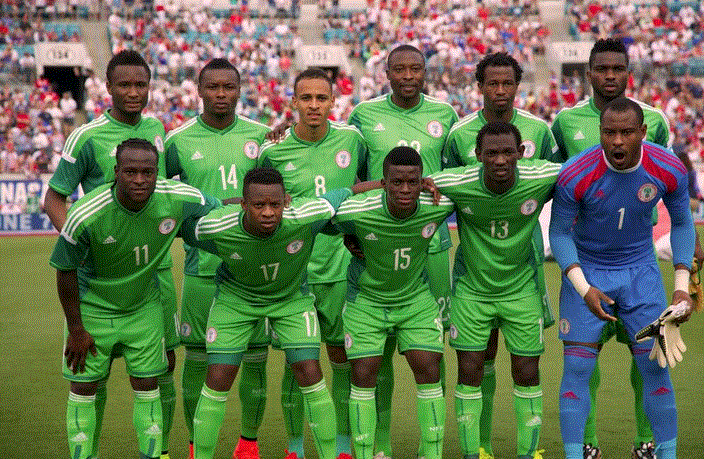 Echoes of Nigeria's 2-1 loss to USA in the wee hours of Sunday morning still reverberates with so many Nigerians already giving up hopes of the country's chances at the 2014 FIFA World Cup.
If there is anything the three warm-up matches has taught us,it is the usual swansong:" don't expect anything from the Super Eagles,and let's see if they will go on to astound us," well it appears they seem to thrive that way.
With Nigeria failing to win any of their three matches,it is not yet time to sound the alarm bells for danger,though. Super Eagles coach Stephen Keshi still has up to one week to plug some holes before Nigeria's first game against Iran on June 16th.
So we tried to draw up five things that we observed from the game against USA at Jacksonville,it would have been a litany but let's stick to just the anomalies we noticed against Jurgen Klinsmann's team.
1)
Left back is a problem:
Just hours before Nigeria took to the pitch,it emerged that Elderson Echiejile has been ruled out of the World Cup for Nigeria. At such,Juwon Oshaniwan became the only recognised striker in the squad.
Ejike Uzoenyi has been drafted in to replace the Monaco man,not a like-for-like replacement,with a conspiracy theory already thrown up: "what if something happens to Juwon?"
Respected Sports journalist Toyin Ibitoye,pointed in a tweet that Uzoenyi can fill in at left back if the occasion calls for it, citing that he had once played in that position for his past clubs: Gateway,Enyimba and others.
The thing is that Uzoenyi can't be trusted to start in that position in a competition of the World Cup's magnitude,he would only do so in a case of an emergency,and there are no guarantees that he will do the job effectively.
Efe Ambrose put in some shift at left back against Greece,but it was glaring that he would struggle there.
So "all eggs" are in Juwon's "basket" that he remains fit,and also that he is not caught out of positional at the World Cup.
He is good joining the attack but always a suspect in defence,if you recall that the first goal U.S scored came from his position,then you will see a genuine reason to concerned.
2)
Midfield is unstable:
With John Obi Mikel and Ogenyi Onazi in Nigeria's midfield,there should be some sort of relaxation that they can match up with their contemporaries.
But what we learnt from them playing against USA was some sort of imbalance that the midfield had.
Michael Bradley ran the show and the way he initiated offense unimpeded baffled many,with Nigeria's midfield merely grasping at straws.
For Nigeria,Mikel plays an offensive role and the responsibility of creativity has been saddled on him ,Keshi has built his team around him and when he is not in play the team struggles.
In the last two friendly games,it looked like Mikel was combining offensive and defensive midfield duties. He didn't really impose himself on those games,and he is Nigeria's most influential player.
Maybe it is already looking like a mistake not including Sunday Mba in the final team to Brazil,because if Mikel fails to "show up" then the team could struggle to invent some spark.
It is already coming home now what former Super Eagles skipper Austin Jay Jay Okocha meant when he noted that Keshi team needs to add creativity in their midfield.
3)
Victor Moses should learn to release the ball to others:
He could be menacing sometimes but on other days he could just be a pain to watch,not a delight.
In the 0-0 draw against Greece last week,Moses emerged as one of the Super Eagles players who was blameless.
But against USA,though he made some impressive runs in the game,he would have made do with picking out his men and squaring passes to them.
Maybe they weren't readily making themselves available,but in some situations the Chelsea winger just made blind runs.
He is an influential player and one who can skin defenders in a one on one setting,but the final product is what has left people disappointed.
Keshi should instill in Moses the tenets of bringing others into play and not for him to look at doing all the job alone.
As was seen in the penalty he won,he is a threat in the box and gives defenders loads of things to think about.
However,he has to horn his game towards locating his free-men to collectively due the damage.
4)
Joseph Yobo is suspect:
Much as Joseph Yobo is the most experienced in the Nigerian defence,the former Everton player has lost a yard of pace.
A second look at the goal by Jozy Altidore had Yobo not really covered in glory from that episode.
Man-marking Altidore whom Bradley picked a pass to,how the big American shielded Yobo,turned and belted the ball beyond Vincent Enyeama is still jaw-dropping.
The popular logic is that Yobo would have done better. Why afford Altidore that luxury in your defence?
With Kenneth Omeruo having sat out due to an injury,Yobo came into the team and though he looked stable,sometimes he was shaky.
Even his defence partner in the game Godfrey Oboabona,attested to it that there was little communication between them.
"I think it was a lack of communication that led to the two goals," Oboabona told KickOffNigeria.com.
"Because these are the kind of goals that for the last two years I have not seen us concede.
"I am not the kind of player that criticises another player because everybody makes mistakes and nobody is perfect but I think we will have to work and communicate well."
5)
Attack ought to be clinical:
We can't continue rambling over the exclusion of Ikechukwu Uche in the team,events have overtaken that.
With the exception of Emmanuel Emenike,one has to wonder where the goals would come from.
Which of these trio would you have gone for: Ikechukwu Uche,Omatsone Aluko and Obinna Nsofor or Shola Ameobi,Michael Uchebo and Michael Babatunde? The latter are expected to come in with the goods for Nigeria in Brazil when the World Cup starts.
As it stands,the Super Eagles team is struggling to find goals and one hopes it does not affect them in Brazil.
It is time for the attackers in the team to step up their game and show that they can be counted on.
The World Cup kicks off in three days time and if the Super Eagles fails to get their acts right,they might be kissing the tournament bye if before it begins.
Photo Credit:
@NGSuperEagles
Last edited by a moderator: