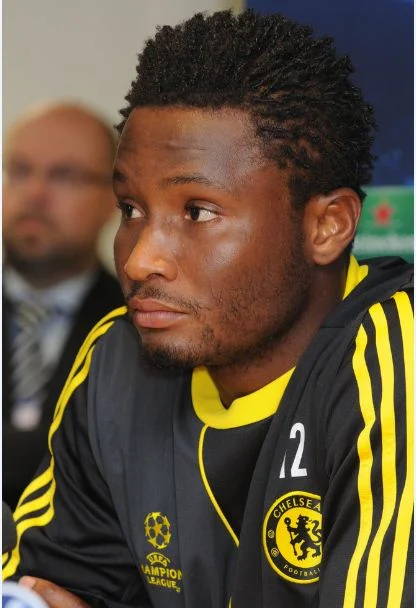 From grace to grass, how the mighty have fallen,there might not be enough superlatives to qualify the fate of Nigeria's John Obi #Mikel at #Chelsea football club.
Reports emerged on Wednesday that the English Premier League side wants to offload the midfielder from the club to free up spaces for new arrivals,with Mikel now deemed surplus to requirement.
According to Tuttomercatoweb,Chelsea are believed to have been offering some Italian clubs the services of the Nigerian for as little as £5million,which can be interpreted that "they desperately want to sell him"
The interesting thing is that these said Italian clubs being offered Mikel,are not said to have even tabled a bid.
Do they have doubts,or maybe they want Mikel for free?
Has the standard of the Nigerian so fallen that he is now being considered not good enough to worth more than £5million?
Mikel was a player who showed so much promises in his formative stages that Chelsea was famously quoted by a Nigerian newspaper to have "struck gold" when the club first had contact with him.
In fact Mikel exuded the potentials of a truly great player that Chelsea went through a lot of hassles before they could sign him.
Chelsea had to cough out £16m(£12m to #Manchester United and £4m to Lyn Oslo) in order to settle what has been a protracted transfer saga that involved the three aforementioned clubs.
We are not talking of money that exchanged hands between agents and also the bandied reports of Chelsea stuffing family relatives of Mikel with cash,in order to pressurize him to make a turn-around and say he initially signed for United under duress.
The rest that happened is confined to history,but what could be picked from here is that Chelsea went through a lot to sign him, so why this offloading tactics as though he cost them nothing?
Chelsea wouldn't have gone through that hellish experience to sign Mikel if that talent has not been there,and over the years Mikel has featured prominently in the plans of each coach that has been at Stamford Bridge in the last eight years.
So here,we try to draft five reasons why Mikel is worth more than the five million pounds that Chelsea has put him up for.
*Three years left on his contract:
Chelsea wouldn't have offered Mikel a contract extension in 2012 if they didn't feel that they could recoup a bigger money for him on an eventual sale.
Player's lengthy contracts are bargaining chips that clubs use to negotiate favourable deals,and Mikel is not an exception to that rule.
Not like Mikel has one year left in his contract and not willing to renew,which could have forced Chelsea to rapidly look for buyers,his contract runs till 2017.
The three years left on his contract is a clear indication that his value should certainly be above the five million he is presently on.
Even if they equate each year to two million multiplied by three,it will come to six and still surpass five million.
*Age:
At 27,Mikel still has age on his side and is sure to last a few more years ahead of him.
He is not in his 30's or possibly looking for one final pay-day in the oil-rich regions or any of the leagues that offer a lifeline to retiring footballers.
In fact at 27 he is now at his peak as a footballer,and would represent good value for money for any team picking him up.
Mikel's age is a big factor to consider,which should even help to raise his stock when the transfer talks are being held.
*Experience :
His experiences cannot be bought in the market,and having played under renowned coaches at Chelsea would be coming with immense knowledge.
Mikel is proven and have been seen do it on a big stage,so there is no fright if he has tested the waters before.
A champions League,Europa and English Premier league winner,not to mention of cup victories,Mikel has an overflow of experiences.
Some of the players we have seen sold higher than the money he is being offered for now,can't even boast of half his resume.
*Adaptability:
Mikel has proven that he can adapt in any area of midfield,be it offensively or defensive wise(like he swaps position when playing for Chelsea and the Super Eagles)
So if you are buying him,you are sure of buying someone who can adequately fit into any role in midfield for you.
It could be that Chelsea are even the ones limiting his potentials,because we know that he has the capability to influence games if given the licence to operate freely and also if trusted to do so.
*He is an established international player:
Mention any Nigerian player,and the first name on people's lips would be John Obi Mikel. The 27-year old has become a mainstay in Nigeria's midfield over the years and he is one of the spines of the Super Eagles team.
Winner of the 2013 Nations Cup trophy,played at the 2013 FIFA Confederations Cup in Brazil,and played all Nigeria's matches at the 2014 World Cup;all these in a year and six months,he certainly is not a player that should go for cheap...
***
Yes it might sound like I am going into a panegyric for Mikel,I strongly believe that he is way worth the price that he is being put up for.
Why didn't Chelsea sell him last year that Napoli and some other clubs really wanted him,holding out for at least £15million?
Now that these clubs have reinforced and are now looking at other players,Chelsea are now willing to offload him.
If they want to offload him for that cheap,they can as well place him on a free transfer..... since they don't really need money from his sale.
Last edited by a moderator: