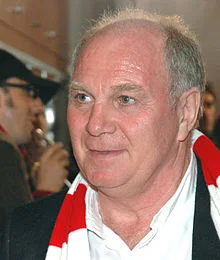 Former Bayern Munich President, Uli Hoeness has begun his three-and-half-year jail term for the evasion of taxes amounting to 28.5 million euros according to German media.
Hoeness was sentenced in March and reportedly taken to Landsberg am Lech prison on Monday.
The State Prosecutor, Ken Heidenreich, is yet to confirm if Hoeness has begun his jail term, but various German newspapers have been observed reporting the story as is explained by Hoeness' legal team.
However, Heindenreich told Deutsche Welle newspaper, "We will not make any public statement on that.
"It's not something we would make public anyhow and there will not be any press release at any point. Mr Hoeness himself would be the person who could confirm that."
The disgraced former Bayern striker had played 239 games, scoring 86 goals and capped for Germany 35 times and scoring five goals.
After he retired from playing football, he became the club's General Manager before ending up as the Club's President.
Hoeness resigned after a 44-year era as the President of the Bavarian club when the ruling of his jail term was decided.
Photo Credit: Wikipedia
Last edited: