Former Chad President Hissene Habre has been found guilty of crimes against humanity for ordering the killing and torture of thousands of political opponents during his rule from 1982-1990.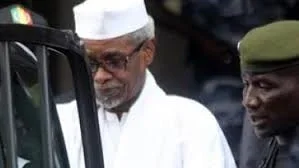 He was sentenced by the Special African Chamber in Senegal to life in prison. It marks the first time that the court created by the African Union has tried a former leader for human rights abuses.
The 73-year-old denied all charges and refused to acknowledge the authority of the court.
The trial was the culmination of a 25-year campaign by the victims and human rights activists to bring Habre to justice.