A former speaker of the House of Representatives, Dimeji Bankole,said he is ready to revive the Ogun State Peoples Democratic Party, with a warning against the imposition of candidates by party leaders.
Mr. Bankole made this known on Friday, while hosting thousands of his supporters under the banner of Dimeji Bankole Movement, for a new year party at his residence in Onikolobo area of Abeokuta, the state capital.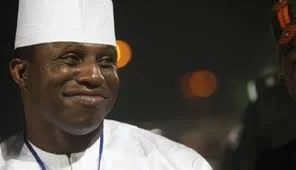 Mr. Bankole warned the party leadership against any form of manipulation during the forthcoming party's congress.
According to Premium Times, he said any attempt to impose candidates would lead to the experience of the 2015 poll, when the party split into many factions.
Mr. Bankole said he had no plan to leave the Peoples Democratic Party, PDP, as being insinuated.