Two relatives of former U.N. Secretary-General Ban Ki-Moon have been indicted on U.S. charges that they engaged in a scheme to bribe a Middle Eastern official in connection with the attempted $800 million sale of a building complex in Vietnam.
Joo Hyun "Dennis" Bahn, a New York real estate broker who is Ban Ki-Moon's nephew, and his father Ban Ki-sang, Ban Ki-moon's brother who was a senior executive at South Korean construction firm Keangnam Enterprises Co Ltd, were charged in an indictment unsealed on Tuesday in Manhattan federal court.
Ban ki Moon served as UN secretary general from 2007 until 2016. He stepped down on Dec. 31 after serving two five-year terms as U.N. Secretary-General. He was succeeded by former Portuguese Prime Minister Antonio Guterres on 1 January 2017. Ban is now being seen as a possible future president in his home country of South Korea.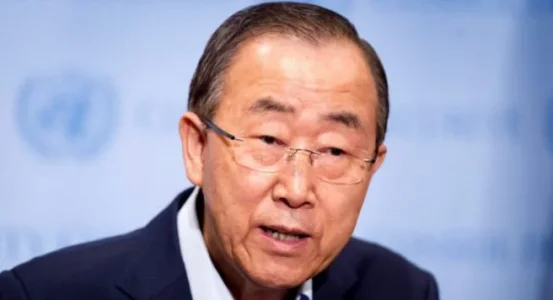 Reuters quoted his spokesman as saying Ban was unaware of the circumstances surrounding the allegations against his relatives.
According to the indictment, in 2013, Keangnam was facing a liquidity crisis and turned to Bahn to secure an investor for a Vietnamese building complex called Landmark 72 in exchange for a potential $5 million commission.
Rather than obtain financing legitimately, Bahn and Ban Ki-sang engaged in a scheme to pay bribes to an unnamed Middle Eastern official to convince his country's sovereign wealth fund to acquire Landmark 72, the indictment said.
The bribes were paid through Malcolm Harris, a self-described arts and fashion consultant and blogger who was also charged and who the indictment said claimed to be an agent of the official.
Based on communications with Harris, in April 2014, Bahn and Ban Ki-sang agreed to pay an upfront $500,000 bribe and another $2 million upon the sale's closing, the indictment said.
But Harris did not have the relationship he claimed with the official, the indictment said, and stole the $500,000, which he spent lavishly.
As Keangnam's liquidity crisis worsened, Bahn - believing the bribe had been paid and would work out - schemed to trick Keangnam and its creditors into believing the sovereign wealth fund was close to acquiring Landmark 72, the indictment said.
But when the deal ultimately failed to materialize, Keangnam entered into court receivership in South Korea, according to court papers.