Ferrari's chairman Luca Di Montezemolo will step down from his post at the helm of affairs leading the Formula 1 team.
Montezemolo has been Ferrari's chairman since 1991,and has now resigned following a spate of disputes with Sergio Marchionne, chief executive officer of parent company Fiat.
Incidentally,Marchionne will be the one taking over Di Montezemolo's role from October 13.
In his statement, Di Montezemolo said:"This is the end of an era after almost 23 marvellous and unforgettable years," said the 67-year old. "It has been a great privilege."
"It is the most wonderful company in the world and it has been an honour to have been its leader."
"I devoted all of my enthusiasm and commitment to it over the years. Together with my family, it was, and continues to be, the most important thing in my life."
Ferrari has had problems challenging for the formula 1 title in the last five years. They have not won a drivers' or constructors' title since 2008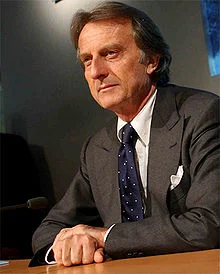 Photo Credit: Wikipedia