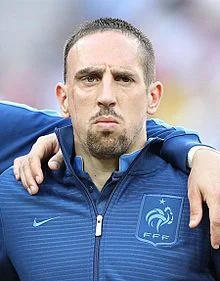 France winger Franck Ribery would have made it to the 2014 FIFA World Cup tournament if he didn't have the fear of injections, claims team doctor, Franck Le Gall.
The Bayern Munich player had back injury and missed out the last three weeks of the Bundesliga but was rushed back against Borussia Dortmund by the Bavarians in the DFB-Pokal final victory in May.
Le Gall claimed Bayern Munich were to blame for Ribery's misfortune for using the needle to solve all forms of injury problems which made Ribery fear injections as the solution to his back problem,when presented with the same option by France medical team.
"He was out for more or less three weeks and played a match which he probably shouldn't have played because he played through pain.
"Franck belongs to a club where the treatment of every injury, whatever it is an ankle sprain, bruises, muscular pain, spasm, muscle tear, it's injections.
"And he got 10 by injury, so 20, 25, 40 per year or more. So after a while, he's tired of injections.
"If for a moment we thought we could fix it like that, we did not do it because he's afraid of injections now."
"The diagnosis of lower back pain is really vague, I heard some journalists trying to figure out the cause, it can be a slipped disc, it can be muscular strain.
"Ribery had a bit of everything but the medical exam he had was really reassuring.
"So we know why he got this pain, but…we did not find a way to stop the pain or to make him play with this pain."
Photo Credit: Wikipedia
Last edited: