The Federal Road Safety Commission (FRSC), Ogun Sector Command, said on Monday that it had embarked on 24 hours Special Patrol of the Lagos/Ibadan Expressway to reduce traffic congestion during the festive season.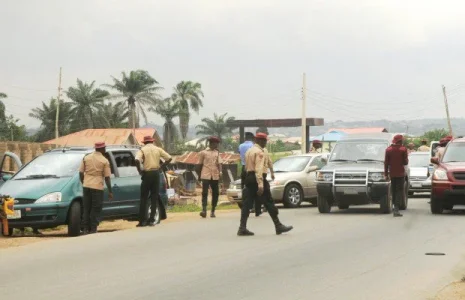 The Sector Commander of the commission, Mr Clement Oladele, told the News Agency of Nigeria (NAN) in Ota that the step was necessary in order to ensure free flow of traffic and safety during the festive period.
"The increase of vehicular movement during festive period has necessitated the need to put the Special Patron on the roads to decongest gridlocks and ensure sanity," he said.
According to him, the special patrol, which began on Dec. 19, will end on Jan. 15, 2017.
He added that the patrol team would later on be broken into two groups for effective coverage.
The sector commander, however, said that the first set would be on duty for the special patrol between Dec. 19 and Jan. 1, 2017, while the second set would take over from Jan. 1, 2017 to Jan. 15, 2017.
He further stated that the operation of the first patrol team would cover the Mowe/Ibafo area to check the excesses of drivers as well as ensure strict adherence to traffic rules and regulations.
He said the other group would cover the Ijebu-Ode area.
NAN