The National Association of Nigerian Students (NANS), Ekiti State chapter, is to shut down all tertiary institutions in the state on Tuesday, to protest the hike in the price of Premium motor spirit, fondly called petrol by the federal government.
NANS, in a statement by the chairman of the chapter, Comrade Shina Awopeju, on Sunday, said the astronomical increase of the pump price of petrol from N87 to N145 by President Muhammadu Buhari's government , was ''cruel , wicked, insensitive and brazenly oppressive.''
Awopeju said all tertiary institutions in the state, both private and public , would be shut down on Tuesday, May 17 in protest if President Buhari refuses to reverse the policy, he described as
ill-timed and obnoxious.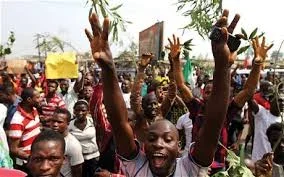 NANS chastised President Buhari for allegedly failing to fulfill his electioneering promises to Nigerians, in spite of the overwhelming supports accorded him during the 2015 presidential poll.
"Nigerians are gradually losing trust in President Buhari ,because what we are getting were not the kind of change we bargained for.
"The federal government should find a way of making our refineries functional and operational than to be increasing fuel price at will," NANS posited.