The presidency has earmarked N500 billion in the 2016 budget for social welfare in order to cushion the effect of economy hardship on the masses especially with the new fuel price regime.
A statement by the media spokesperson for Vice President Yemi Osinabjo, Mr. Laolu Akande in Abuja on Sunday stated "All together the federal government would be directly impacting the lives of more than 8 million Nigerians in different social investment 2016 budget spending that would provide succour and be a ready-made palliative to ordinary Nigerians."
The breakdown of the interventions and palliatives include:
- the direct payment of N5000 monthly to one million extremely poor Nigerians for 12 months as provided for in the 2016 budget for which N$68.7B has been appropriated."
- direct provision of very soft loan -cash for market women, men and traders, including artisans and Agric workers.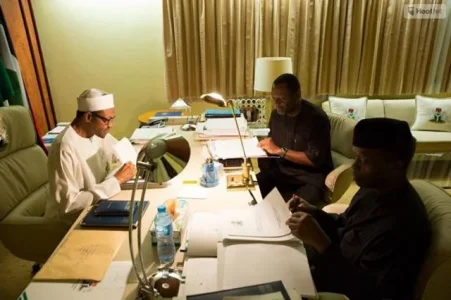 - The details also showed their there would be "payment of between N23,000 to N30,000 per month to 500,000 unemployed graduates who would be trained, paid and deployed to work as volunteer teachers, public health officers and extension service workers among other responsibilities. They would also be given electronic devices to empower them technologically both for their assignments and beyond .
- At least 5.5 million Nigerian primary school children - i.e starting first in 18 states-three per geopolitical zones-would be fed for 200 school days under the free Homegrown School Feeding Programmes as N93.1B has been appropriated for in the 2016 budget.
- 100,000 tertiary students in Science Technology Engineering & Maths-STEM, plus Education will partake in the N5.8B education grant in the budget.
Akande stated that these measures that would start in a matter of weeks and would certainly lift the ordinary man from the pangs of economic hardship and poverty. "Long before now, the Presidency has made adequate arrangements in the 2016 budget to ensure that Nigerians are lifted from poverty and hardship," he said.
Last edited: