Adams Oshiomhole, the Edo State governor has once again explained why he took side with the Federal Government on the increment of petrol pump price.
Oshiomhole said the fundamentals and economic indices were different from what they were a few years ago.
This, he said Nigerians must undergo some pain before reaping the gains.
The governor said it did not make economic sense for the government to spend more than half of its earnings on fuel subsidy to the detriment of other development programmes.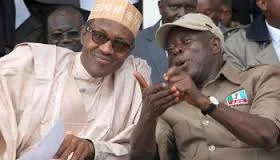 Speaking at a special thanksgiving service organised by Apostle Charles Osazuwa, Senior Pastor and founder of Rock of Ages Christian Assembly International, RACAi, Benin City, to round off a seven-day programme of the church, yesterday, Oshiomhole said that the former government of President Goodluck Jonathan spent as much as N1.2 trillion on fuel subsidy.
He said, "I have listened to our chairman Chief John Odigie-Oyegun and he reminded us that Minister of Petroleum, Kachikwu, has been under fire. I believe the fire will continue for some time. Despite what he is going through, the minister recognised that we can't be too busy to come to the church to ask God to help us to do the job."