Gambia's president, Yahya Jammeh has warned President Muhammadu Buhari of Nigeria, other ECOWAS mediators and the international community against interfering in the country's political crisis, on the eve of talks with west African leaders who will urge him to step aside
Jammeh has insisted that his country must wait for the supreme court to rule on who won last month's election said he has appointed his own mediator.
It follows a court announcement on Tuesday that the court would not be able to convene before May, when the Nigerian judge appointed to lead the panel of judges is available.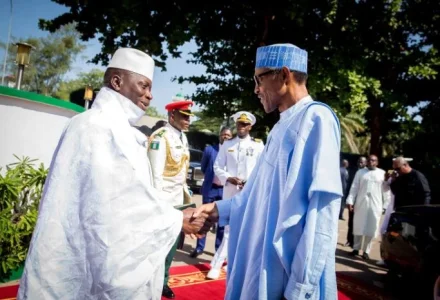 In a speech on Gambian TV, Mr Jammeh also denounced "foreign interference" in the wake of the election - which the election commission said had been won by opposition candidate Adama Barrow - and said he had appointed his own mediator "in this trying period".
Mr Jammeh said he and his party the APRC had rejected the election result because of anomalies that "could not be explained".
He said only the supreme court could now appoint someone president: