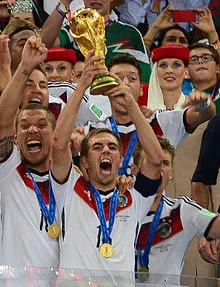 Germany skipper Phillip Lahm on Friday announced his retirement from international football.
Lahm will be bowing out on a high after he lifted the World Cup trophy this past Sunday,which his country won in Brazil.
The 30-year-old Bayern Munich versatile defender,was capped 113 times for Germany scoring five goals in an international career that spanned ten years.
The Germany Football Association (DFB) confirmed the player's retirement from the national team.
"I am happy and grateful that the end of my career end with the national team coincides with winning the World Cup in Brazil," Lahm said in an open letter on the DFB website.
DFB president Wolfgang Niersbach said: "Philipp called me this morning and personally informed me of this step. I very quickly realised that it was pointless trying to persuade him to reconsider his decision.
"He was not just a superb player for 10 years in the national team, but also a complete role model. I thanked him for everything that he's done for the DFB."
Lahm will however continue playing for his clubside,Bayern having renewed a contract with them until 2018.
Photo Credit: Wikipedia