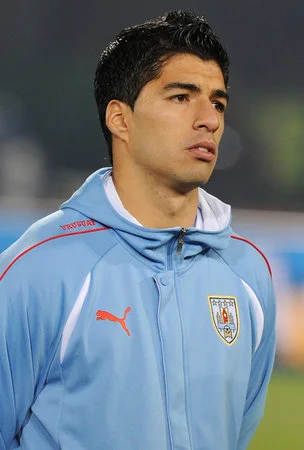 Liverpool skipper Steven Gerrard has revealed that he persuaded Luis Suarez not to join Arsenal Football Club because he felt joining the Gunners will be a downgrade.
In what looked like an apparent swipe on Arsenal,Gerrard claimed that Suarez is "too good" to be playing for the Gunners.
Last summer,Arsenal tabled a £40,000,001 bid for the Uruguayan which they believed would have triggered his buy-out clause,but Liverpool subsequently turned down the bid and Suarez remained at the Merseyside.
"Last summer, when Luis was out in the cold, I told him, 'Don't go to Arsenal,'" Gerrard told reporters on Thursday. "With all due respect to them, I told him he was too good for Arsenal."
Suarez only weeks back completed a transfer move to Spanish club,Barcelona who paid a whooping £75million to sign him from Liverpool.
He is the third most expensive signing in history,and will have to wait till October to make his debut for Barcelona following his four-month ban from football for biting Italian defender Giorgio Chellini at the World Cup.
"Luis's dream, from the first day he came to us, was to play for Real Madrid or Barcelona," said the 34-year-old.
"I said, 'If you score 30 goals for us and win the PFA (Professional Footballers' Association) Player of the Year and FWA (Football Writers' Association) Footballer of the Year (awards), they will come back for you.'
"I thought for his own sake, and to get our fans' respect, he had to give us at least one more year."
He further added: "You can't begrudge him his dream, leaving for Barca. But I'd have been disappointed if he had left for Arsenal."