President Muhammadu Buhari-led federal government has recorded $22 per barrel extra above its 2018 budget benchmark, as crude oil price crossing $69 per barrel.
As at Wednesday, the international market, the crude oil prices hit new multi-year highs on Wednesday as OPEC-led production cuts and healthy demand helped to balance the market.
U.S. West Texas Intermediate (WTI) crude futures were at $63.34 a barrel, up 38 cents, at 1440 GMT. Earlier prices rose to $63.67, the highest since Dec. 9, 2014.
Brent crude futures were at $69.02 a barrel, 20 cents above their last close. Brent earlier hit $69.37, the highest since May 2015.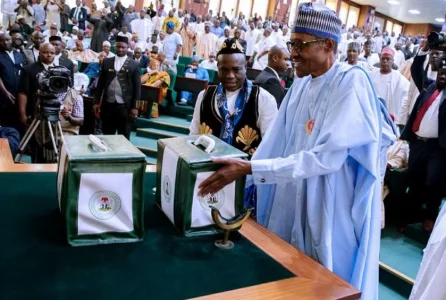 President Buhari had in December 2017 presented $45/barrel as crude price benchmark in his appropriation bill but senate jerked it up to $47/barrel.
Although the budget has not yet been approved by the national assembly, the extra amount is usually transferred to the excess crude account for the three tiers of government.
The global price of crude oil and successful attacks on oil installation in the Nigeria Delta region plunged the largest economic in Africa into decade-end recession.
With the surge in global prices, year 2018 may be another boom for the Nigerian economy.