They dressed up to parry but somehow couldn't leave politics at home. The Golden Globes 2017 awards was filled with political talk as Celebrities took turns to criticize US President-elect, Donald Trump.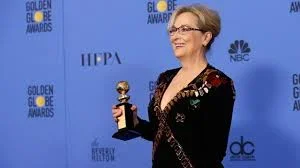 Meryl Streep lashed out at the President-elect during her Cecil B. DeMille Award speech without ever mentioning him by name. According to DAILY MAIL, Steep called out Trump's infamous (and often-disputed) mimicking of a disabled New York Times reporter earlier last year.
"It kind of broke my heart when I saw it, and I can't get it out of my head, because it wasn't in a movie. It was real life," Streep said. "And this instinct, to humiliate, when it's modeled by someone in the public platform, by someone powerful, it filters down into everybody's life, because it kind of gives permission for other people to do the same thing.
"Disrespect invites disrespect. Violence incites violence. When the powerful use their position to bully others, we all lose," she added. "We need the principled press to hold power to account, to call him on the carpet for every outrage."
On Trump's proposed immigration plan, the star said, "Hollywood is crawling with outsiders and foreigners," Streep said after describing the diverse backgrounds of some of her acting contemporaries ("Where are their birth certificates?" she asked pointedly).
"So if you kick them all out, you'll have nothing to watch but football and mixed martial arts. And that is not the arts," she said.
Jim Fallon also threw jabs at Trump during his opening monologue. He compared Trump to the villainous King Joffrey from "Game of Thrones" while saying the Globes ceremony was "one of the few places left where America still honors the popular vote."
Bryon Howard, one of the directors of the blockbuster animated film "Zootopia," also appeared to make a veiled reference to Trump, when he said: "We wanted 'Zootopia' to be a film that not only entertained kids but also spoke to adults about embracing diversity, even when there are people in the world who want to divide us by using fear."
Tracee Ellis Ross, a winner for best actress in a TV comedy for "Blackish," dedicated her victory to "all the women of color and colorful people whose stories ideas thoughts are not always considered worthy and valid and important." Trump mocked Blackish in 2014.