Former President Goodluck Jonathan on Saturday disclosed why he conceded defeat to President Muhammadu Buhari in the 2015 election.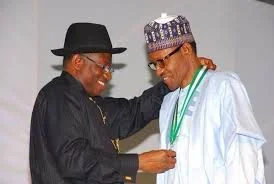 Speaking at the 4th, 8th and 2nd combined convocation and 10th anniversary of Bingham University, Nasarawa State, Jonathan said he conceded defeat because no blood of any Nigerian was worth his political ambition; PUNCH reports.
"The single act (of conceding defeat) I displayed has already begun having effects on global politics as world leaders now willingly concede defeat to their opponents when they lose elections.
"Let me make it very clear, nobody within or outside the country persuaded me to do that. I know it is the right thing to do. My ambition is not worth the blood of Nigerians. It was not just a political slogan."
"It is my belief that no one's political ambition is worth the blood of any Nigerian and I am fulfilled knowing that conceding defeat, while the votes were still being compiled, was borne out of my personal principle and conviction generating positive impact on other nations."
"I have seen politicians, whose children study and live abroad, mobilise children of others as thugs during elections. They don't care whether they die or not. This is against human dignity. We should fulfil our vows as a nation of great people who love and respect one another," Jonathan added.