Governor Abiola Ajimobi of Oyo State, on Thursday, presented a budget proposal of N267.4billion to the state House of Assembly for 2018 fiscal year.
The appropriation bill tagged: Budget of Stabilisation, is N60.4billion higher than the N207billion 2017 budget proposal. For 2018, the total recurrent revenue was put at N213.3billion, and the capital receipt was pegged at N43.72billion.
"As a responsive government, we are aware of the need to sustain the developmental strides taken so far in propelling the state forward, and against this background, a total budget of N267,436,357,912.19 only is being proposed for 2018 fiscal year," he said.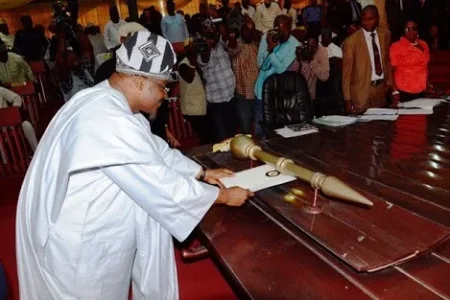 According to Ajimobi, the total recurrent expenditure stood at N118.37billion, while the capital expenditure was put at N149.1billion, adding that N39.84billion would be spent on personnel cost, N25.24billion on overhead cost and N53.28billion on the consolidated revenue.
The proposed revenue from the federation account was put at N93.68billion, and N7.53billion from transfers (LG, JAAC for LGSPD and LGSC), as well as N112.10billion from Internally Generated Revenue (IGR).
Giving relative aggregate sectoral allocations, the governor his administration would commit N85.39billion to the economic sector, N54.280billion to the social service sector, N.517billion to the law and justice sector and N5.94billion to the general administration sector.