Benue State Governor, Samuel Ortom on Tuesday sacked four commissioner of the state executive council.
The governor also announced the appointment of Professor Anthony Ijohor, a Senior Advocate of Nigeria, SAN, as Secretary to State Government.
He made the announcement at the state executive council meeting held at the Benue Peoples House, Makurdi.
Ortom stated that those affected by the changes he had made were Information and Orientation Commissioner, Chief Odeh Ageh; his colleagues in the Ministries of Women Affairs and Social Development, Water Resources and Environment, as well as Arts, Culture and Tourism, Messrs Mwuese Mnyim, Nick Wende and Sekav Iyortyom.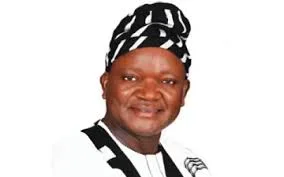 He said Special Adviser on Small, Medium Enterprises and Micro Financing, Dr. Augustine Idogah, had also been relieved of his appointment.
The governor expressed appreciation to the former appointees for the services they rendered to the state and promised to support them in their future endeavours, explaining that they were still part and parcel of the Benue Project.
He said Dr. Bem Melladu, who he praised for discharging the duties of the SSG well would revert to his position as Special Adviser, adding that other replacements would be made soon.