Benue Governor Samuel Ortom on Wednesday announced a cabinet reshuffle, with Commissioner of Youths and Sports, Mr Lawrence Onoja, moving over to the Ministry of Information and Orientation.
His former ministry was restructured into Bureau of Sports and Youth Development.
A statement by Mr Tahav Agerzua, Special Adviser on Media and ICT, showed that the Bureau for Land and Survey is now the Ministry for Lands, Survey and Solid Minerals.
It added that eight commissioners had been retained in their ministries, while the four newly sworn-in commissioners were assigned.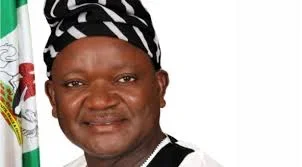 According to the statement, Dr. Terlumun Utser is in charge of water resources and environment, Mrs. Isegbe Ajene, women affairs and social development, while Joseph Shimaor has been posted to arts, culture and tourism.
Bernard Unenge was posted to the newly created Ministry of Lands, Surveys and Solid Minerals.
It said that Mr Michael Gusa retained the justice ministry, just like Prof. Dennis Ityavyar in the education, science and technology ministry and Mr David Olofu, who is still the helmsman at the Ministry of Finance and Economic Development.
Other commissioners left in their beats included Mr James Anbua, Agriculture and Natural Resources, Dr. Cecilia Ojabo, Heath and Human Services, Mr Otokpa Onoja, Housing and Urban Development, Dr. Tersoo Kpelai, Industry, Trade and Investment, and Emmanuel Manger, Works, Transport and Energy.
NAN.