The controversial Honorable Herman Hembe made the list of newly appointees to chair the Michael Imoudo National Institute for Labour Studies (MINLS) under the Federal Ministry of Labour and Employment.
Hembe was sacked from the House of Representatives by the Supreme Court in June 2017.
He is part of the over 200 chairmen of agencies released by the Presidency on Friday.
The Court had in June said Mr. Hembe, who represents Vandikwa/Konshisha constituency of Benue State was not the valid candidate of Nigeria's ruling All Progressives Congress, APC.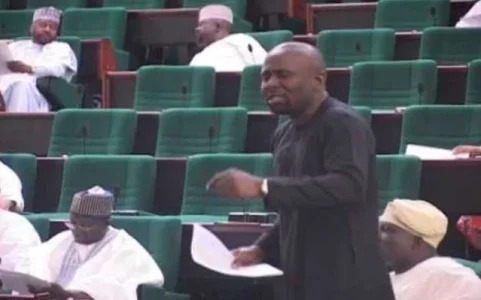 The court also ordered that Mr. Hembe be replaced with Dorathy Mato, who was declared the right winner of the APC primaries.
Mr. Hembe was also ordered to refund to the National Assembly within 90 days all monies he has so far collected as salaries and allowances or emoluments.
He was also ordered to pay a cost of N200,000 to Mrs. Mato.
Before his sack, however, Mr. Hembe has been enmeshed in various controversies in the Nigerian parliament.