Vanguard explains that until the tragic event at the Kano Central Mosque, the Boko Haram sect has been attempting - and failing - to blow up Muslim worship centres in the past two years.
They have largely failed due to constant vigilance and security consciousness of the people who worship there.
Kano's Central Mosque is a historical edifice, and each citizen in and around the mosque feels personally responsible for the safety and protection of that grand worship place.
This was, perhaps, the reason it has been difficult for Boko Haram to launch their deadly pyrotechnics on the place. Until last month, of course.
The untold story - until now - is that the casualty figures would have been higher, but for the spontaneous, almost automatic response of the people.
We read survivor tales telling of how people sacrificed their lives to subdue and kill off the Boko Haram gunmen who were determined to kill as many people as possible.
Ahman, a member of the mosque's self-help group tells Vanguard newspaper: "when it became obvious that we were faced with death, we had no option than to demonstrate that the self-appointed agent of death was a liar. Some of us had at the back of our minds that we are living to die, and that death only comes at appointed time from Almighty, and we also recognised the benefit of saving lives when it mattered of most at the expense of your own life".
Recounting, he said "there was a young man of my age that drove through the row of humans already set for prayers, and when eventually he fell into a ditch, he came out with a big gun, and within seconds the explosions came, wiping off innocent people.
"When we thought it was all over, we heard sporadic gunshots and we saw five strategically positioned gun men spraying bullets on fleeing worshippers. It was at this point some of us sacrificed their lives to save others. In spite of the danger, each one of them was identified, wrestled down and given jungle justice."
Click here to read more
Source: #Vanguard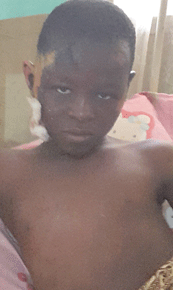 Last edited by a moderator: