Thousands of students in Hong Kong are boycotting classes this week in a massive demonstration to protest Chinese Legislature's imposition of restrictions on the choosing of candidates in elections for the territory's leader that are due to be held in 2017.
Excerpt from the Economist:
The five-day action involving students from two dozen institutions began on September 22nd with a rally (pictured) at the Chinese University of Hong Kong. On September 24th students marched through the heart of the city and tied yellow ribbons—a symbol adopted by the local democracy movement—on the closed gates of the chief executive's office.
Organisers estimate at least 13,000 students are participating in the boycott. It is the biggest student demonstration in Hong Kong since a group of teenagers led protests against the introduction of patriotic "national education" in primary schools two years ago.
That campaign forced the government to back down from a plan to use the curriculum to promote "a sense of national belonging and identity" among schoolchildren. The goals this time are less narrow and more ambitious. Unlike in 2012, both secondary school and university students—led respectively by Scholarism and the Hong Kong Federation of Students (HKFS)—are working closely together.
click here to read more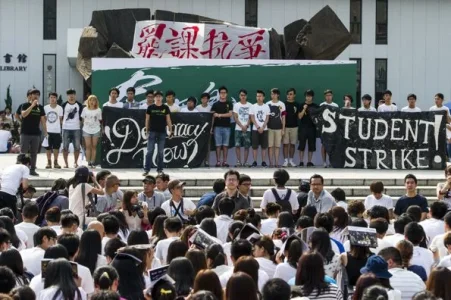 #HKFS #HongKong #TheEconomist