A prospective medical student has died in South Africa while her friends looked on and cheered thinking she was doing the viral #DeadPose challenge.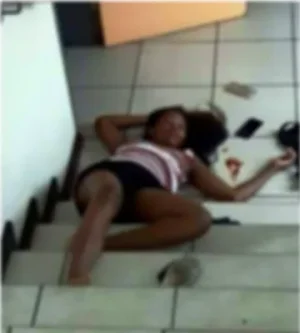 Nineteen year old Tshidi Ngwenya, who had earlier posted a series of pictures performing the challenge, had decided to step it up and perform a daring pose.
This time her daring pose proved to be dare and costly as her friends who cheered on thinking she was doing the viral #Deadpose challenge were not able to discover Tshidi was in trouble early enough.
According to report, the challenge didn't go as planned as she fell to the ground, collapsed and died with her friends having no idea that she was in distress and continued to cheer and take pictures.
Minutes later, one of the friends realized that she was not moving, after checking her they noticed she had choked after swallowing her tongue.
On discovering her friends tried desperately to revive her as they waited for paramedics to arrive. Upon arrival of an ambulance, she was pronounced dead.
Reports say an Ambulance spokesman said "Unfortunately, despite the best efforts of the ambulance crew, nothing could be done to save her.
If her friends had noticed early, she would be alive now" The girl's parents said she had a history of seizures and might have suffered one while performing the #deadpose.
Source: The Timeline
Read more at:
http://www.vanguardngr.com/2017/01/girl-dies-deadpose-challenge/