A victim of an organized sex slave ring has revealed how she was lured in by fake Prophet Enyeribe Nkwocha.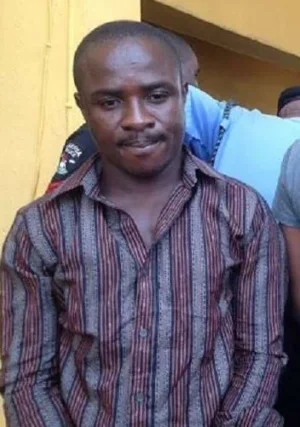 Prophet Enyeribe Nkwocha
The victim who is now 25-years old said the Prophet forced her into prostitution and also made her his sex slave since she was 17-years-old; NEW TELEGRAPH reports.
Recounting her ordeal, the victim said she was traveling from Lagos to Bayelsa State when she first met Nkwocha.
"When I got to Yenagoa, it was late and I boarded a taxi that would take me home. I did not know that the driver and the other passengers were kidnappers. But I became worried when the cab diverted into a bush. I started screaming and one of the passengers who turned out to be Nkwocha, told her not to be scared, that he would help me. He promised that nothing would happen to me.
He told me that God sent him to come and use me for a missionary work. He reassured me he came to assist me; he said I shouldn't cry or be afraid.
''He also told me that he was led by God to tell me that I had the gift of prophecy, which I should use to serve God. He said I was going to make money. He said he would keep the money for me and use it to open a church for me. He brought out N1000 from his wallet and made me take an oath that whatever I did with him, would remain a secret between us.
''He told me that any money I got would be kept for me in a special account. He said he was a foreigner, not a Nigerian. I was forced to take an oath with him in that taxi. After the incident, he allowed me to go to my sister's house that night, but I couldn't tell my sister what happened because of the oath.
''He warned that anytime I divulged the incident to anyone, I would vomit blood and die. I repeated the same pronouncement on him. When my sister moved to Lagos, Nkwocha had more access to me and ordered me to start attending clubs and to have sex with men for money.
I am sure he used something on me because I was obeying him like a sheep. All the money I made while sleeping with men, I handed them to him.
''When I got tired of going to the clubs and sleeping with men and told him I wanted to stop, he started taking me to hotels himself where he would arrange for men to have sex with me. I was in SS2 and only 17 years when all these started. Today, I'm 25 years old. I stopped going to school and forgot that I had parents or relatives.
''He said that if I allowed any man to have sex with me without a condom, I would die! He said, he alone, had the right to have sex with me without a condom. He would me drink his semen anytime he had sex with me. I now know that I was under a spell. In those eight years, he was also having sex with me."
The Abia State Police Commissioner, Leye Oyebade who confirmed the incident, said Nkwocha and others have been arrested.