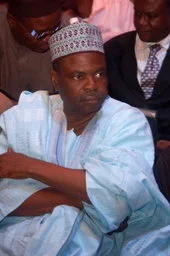 Former CAF and FIFA executive member Amos Adamu has revealed how he used his connections and experiences to prevent Nigeria from being banned by the World football governing body.
FIFA on Friday lifted an indefinite suspension placed on Nigeria after the ousted executives of the football federation were brought back to their offices,following a court injunction that sacked them two weeks ago.
Adamu was drafted in by the Sports ministry to be on the Nigerian delegation that went to liaise with FIFA in Brazil.
Speaking about his involvement,Adamu said: "I had read about the NFF being dragged to court. And soon after, I got a call from the sports minister inviting me to come over.
"I made the minister understand that FIFA will not tolerate football matters being in court and so, the suit will have to be vacated and he agreed. I immediately called the CAF president (Issa Hayatou), and explained to him and also asked him to plead on Nigeria's behalf. He agreed but warned that the case must be withdrawn from the court.
"When we learnt that the courts in Nigeria were on strike, I pleaded with the FIFA president to extend the deadline, which he graciously agreed to."