A 19-year-old girl, simply identified, as Hassana, has narrated her ordeal to journalists who had gathered at Nigeria Security and Civil Defence Corps (NSCDC), Kebbi State command headquarters, as five suspected rapists who raped her were paraded.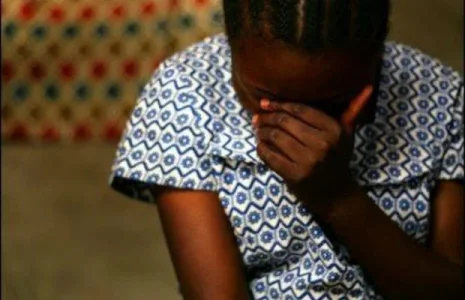 According to her, the suspects allegedly conspired to abduct and deflower her; because her family rejected the marriage proposal made by one of them.
The five suspects, who were apprehended by officials of the NSCDC are; Ibrahim Mamman, 23, Bawa Ayuba, 28, Aminu Ahmed, 25, Umar Farouk, 23, and Muhammed Danjuma, 20.
They reportedly lured Hassana out of her parent's home at Sabongarin Sakaba to a bush, and took turns to rape her.
In an emotional-laden voice, Hassana said: "On the day of the incident Aminu (her boyfriend) came to our house at Sabongarin Sakaba in company of his cousin, Umar, and asked me to follow him to a wedding ceremony.
"As we were going along the bush path his machine (motorcycle) developed fault and he asked me to come down.
"He went to negotiate with two other boys who were on another bike to give me a lift but I refused and I asked him to take me back home."
She added that Aminu got angry and left her in the bush and went his way.
"Shortly, two other boys emerged on a motorcycle and they approached me to know what happened. I explained what had happened to them and the promised to take me home. But instead they stopped along the bush and demanded sex from me.
"I pleaded with them that I have not known a man before but they insisted they must have sex with me. The two of them forced me down and raped me in turn. They are the one that deflowered me,"
Hassana further said that after they had satisfied themselves, the men abandoned her in the bush and ran away with their motorcycle.
She continued, "I was crying for help in the bush alone, when some people saw me ,they took me back home to my parents".
While addressing journalists in Birnin-Kebbi, the state's Commandant of the NSCDC, Sammani Mohammed Ringim, said one of the suspects, Aminu Ahmed, had earlier proposed to marry the girl but her parents objected to his proposal.
When Aminu saw that his proposal was turned down, he allegedly connived with the victim to elope with her to Ilorin, Kwara State before they carried out the heinous act.
Ringim, further stated that after his men in Sakaba Local Government Area arrested the five boys, they took the girl to a hospital and it was confirmed that she was raped.