Wife of the embattled leader of the Islamic Movement in Nigeria, IMN, Ibraheem Zakzaky, Zeenat Zakzaky, has claimed that former President, Goodluck Jonathan ordered the murder of her three sons while President Muhammadu Buhari slaughtered thousands of the sect's members.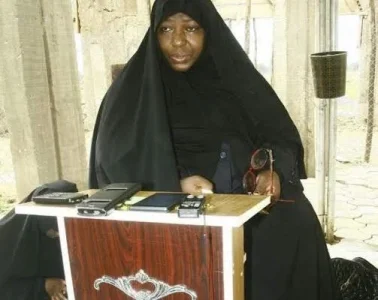 Zeenat alongside her husband have been held in custody of security agents since 2015 despite a Federal High Court ruling ordering their release.
In an open letter to the President, who is currently on a medical vacation in London, Zennat demanded an explanation from Buhari on why despite the court ruling, they have not been released.
Read full letter below:
"Dear Mr President,
I greet you with peace as you rest in the United Kingdom. My salutations and warm wishes to you and your loved ones there to take care of you in your time of need. I pray Allah's mercy on you.
Sir, do you remember July of 2014? I am sure you remember the tragedies of July 2014. It was that month that faith put us together in tragedy and survival. July 2014 was the month when Nigeria roused up, perturbed by the attempt on your life in the bombing that claimed almost a hundred innocent lives.
That was a month that Allah's divine mercy spared you. July 2014 was also the month that the Nigerian army under president Goodluck Jonathan extra-judiciously killed three of my sons among 35 Muslims exercising their constitutional rights of assembly. Destiny bound us together that month as Nigerians said they could not take it any more.
The current Kaduna state governor, Nasir el-Rufai, paid his condolences to my husband, and on July 26th, referenced the tragedy that afflicted me when I lost three of my sons with this caption, "Genocidal Jonathanian Army Kills Once Again," as he shared a Premium Times article covering the incident.
El-Rufai was not inciting the people against the army or Jonathan's government, he was laying the truth of my tragedy bare as was his responsibility and Nigerians could take it no more. They voted for you.
Dear President Muhammadu Buhari, as administrator of Nigeria who Allah(s) has charged with the responsibility of serving justice to 180 million people, you are yet to probe the Jonathan government for this massacre that Governor Nasir el-Rufai verified their guilt in.
And while we waited for you to deliver justice for us as you have been charged, on the tragic July 2014 massacre of my three sons, rather December the next year, 2015, the army under command of your General, Tukur Buratai, massacred 1000 more Muslims across Zaria after some disgruntled youth protested and blocked his path.
Additionally, the army assaulted our daughters, burned many Muslims alive as they demolished our properties across six locations in Zaria. Your army did not stop there, they bombed and demolished our family home on our heads and burned it down. When they found me and the rest of my family hiding in a bathroom, saved by Allah's grace by the boiling water tank which exploded setting off the fire; they shot at all of us and killed another three of my sons right in my eyes.
Under your watch, the Kaduna government and army under Buratai's command, in the dead of the night, secretly went and buried 1000 Muslims, men, women and children, many while still alive at an unmarked mass pit in Mando cemetery.
There has been no exhumation of the graves, no apology, no list of names of victims published, no investigation and no atonement. Not a single army officer or state official indicted by your very own judicial panel report as you ordered Governor El-Rufai execute, has been punished almost a year and a half later in spite of global reminders and condemnation.
Your army, DSS and Kaduna government has since detained many of us for over a year without charge. Me and my husband who sustained several gun shots with him paralysed on one side and blinded, have been locked up since, denied our freedom even in contempt of court orders.
We are sick, we are broken though we have not lost faith in Allah(s). We are unable to see our families, we missed our son's wedding. Dear President Muhammadu Buhari. Why do you keep me locked up like this? What have I done to deserve this? God has blessed you with the opportunity and Nigeria's wallet and presidential jet to travel to the United Kingdom and afford the best therapy in the world at any cost. We praise Allah(s) for his mercies.
All I wish to know is why you remain in defiance and above the law and will not obey the law and abide by the judgement of the court that still stands regardless of appeal, which mandates you to free me so I can hug my last surviving son and embrace my two daughters?
May Allah(s) have mercy on you and give you long life. May He protect you and your children from harm as we have faced in your and Jonathan's hands. May He forgive you.