Some of the hardcore supporters of former President Goodluck wanted a military coup to prevent Muhammadu Buhari from assuming power, Bolaji Abdullahi, the current APC spokesperso, made this revelation in his new book.
TheCable
quoting some of the revelations in a new book, 'On a Platter of Gold: How Jonathan Won and Lost Nigeria',the book, reported that after Jonathan had conceded the election to Buhari, it was suggested at one of the crisis meetings that the military should stage a coup — in which case neither Jonathan nor Buhari would be in power.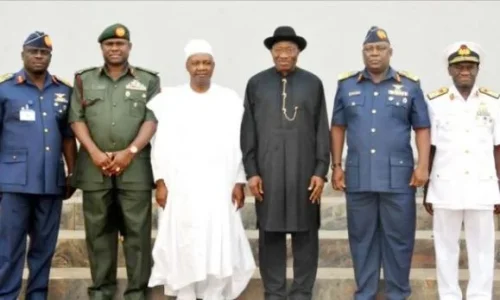 The idea came as a result of fears then that Buhari would launch a vendetta campaign against those who offended him during electioneering.
It was reported that an 'unnamed person' shot down the idea, who said it was too late in the day, pointing out that it would have been more plausible before the election was held at all.
The book will go on sale nationwide from November 30, 2017 after the launch.