The Rivers State Governor and Chairman of the Nigeria Governors' Forum, Mr. Rotimi Amaechi, on Friday said the wife of the President, Mrs. Patience Jonathan, lied against him in her public account of the issues that snowballed into the misunderstanding between the two of them.
"I want to be put on record that the wife of the President said when my wife came to beg me, I pushed her away. I have never quarrelled with my wife publicly and I will never quarrel with my wife publicly.
"There was no time I pushed my wife away:"There is no time I will push my wife away. I just want to correct that so that nobody goes away with the impression that somebody told my wife, 'go and talk to your husband, she came and I pushed her away."
Click here to read more
SOURCE: #PointBlank
#Riversstate #Amaechi #PatienceJonathan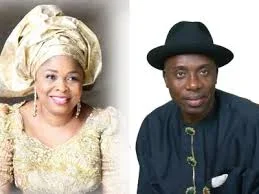 Last edited: