Captain of Nigeria's Dream Team VI John Obi Mikel has revealed how his $190,000 share of the Japanese Doctor's gift will be disbursed.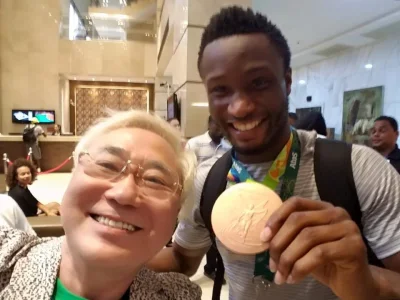 Recall that Katsuya Takasu, a Japanese surgeon made good his promise to reward the team for their bravery in Rio after they beat Honduras 3-2 for the bronze medal.
Takasu issued two Citibank cheques $200,000 in the name of Coach Samson Siasia and $190,000 in the name of Mikel.
Sources from the Nigerian team states that the Chelsea Midfielder excluded the Nigeria Football Federation, NFF, as part of beneficiaries.
Mikel will rather donate part of his share of the largess in a sharing formula that will include the 22 players, team officials, and coach Siasia.
One of the team's officials disclosed to Africafootball.com that the team vowed not to hand over the money to the NFF.
"Mikel has insisted all of us will get our share of the money. That we should not mind what the people in the NFF are saying.
"He will make available this cash when he comes for next month's AFCON qualifier against Tanzania in Uyo."
A team meeting has already resolved that both players and officials will receive equal amount of the cash with Mikel himself agreeing to give part of his own share for the chief coach (Siasia) to get more than the rest of the squad.
It was further gathered that the sharing formula agreed was a flat rate for the 22 players (18 accredited players and four alternate players) and 10 officials.