Yesterday was a sorrowful day at the Glass House of the nation's soccer governing body as facts emerged on how its head of protocol, 43-year old Ibrahim Abubakar was shot dead.
Daily Sun gathered that gunmen stormed his house on Oluwunmi Crescent, Kado Estate, Abuja in the early hours of yesterday and shot him dead.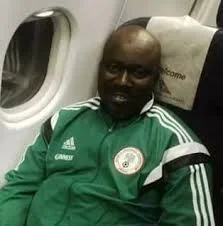 The police which have since visited the scene and began investigation have vowed to nab the killers of the soccer buff.
The Commissioner of Police, Federal Capital Territory, Wilson Inalegwu had after inspecting the scene of the incident and the environment yesterday, said the Police would do everything to nab those who took Abubakar's life. He was however silent on whether it was a case of robbery or assassination.
NFF officials led by the General Secretary, Dr. Mohammed Sanusi, accompanied the corpse from the National Hospital, Abuja to the late Abubakar's hometown, Kaduna, where the remains were interred at some minutes after noon.